---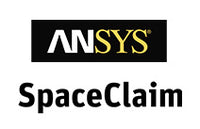 SpaceClaim Student Edition is fully functional and includes Data Exchange I and Data Exchange II.

SpaceClaim Student Edition creates a watermark with the images it produces.

SpaceClaim is the world's fastest and most innovative 3D direct modeler. It enables engineers to easily create concepts and prepare 3D designs for prototyping, analysis, and manufacturing.
SpaceClaim brings 3D solid modeling to the desktops of engineers and analysts who work in a 3D world but don't want to become experts in traditional feature-based CAD systems.


Speed and Ease-of-Use of SpaceClaim in a 3D Printing Software!

The STL Prep for 3D Printing module prepares models for 3D printing efficiently and easily by offering a single solution that not only repairs problems, but also modifies STL and CAD files. This new module also extends SpaceClaim's intuitive interface, speed, and ability to work with any major 3D format into the 3D printing world.

Work with STL to Easily Ready Models for 3D Printing

Analyze and Clean STL: Watertight & intersection analysis; generalized detection of holes, misaligned normals, co-incident triangles; repair STL for printing
Decimation/reduction
Cut & Combine parts (Boolean operations)
Edit STL directly
Shelling & Creating Connecting Features
Shelling: Less printing costs, less shipping costs, faster print times
Creating Connecting Features: Make connecting pins or offsets to recombine the model after printing
Converting to solid: Thickening, deleting, splitting, and more
SpaceClaim's 3D Printing Software also:
Save & export STL files
Import other faceted formats such as OBJ, cgr, AMF