---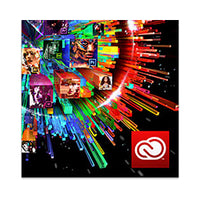 The Creative Cloud K-12 School Site Shared Device License allows a school to install Creative Cloud device licenses on at least 100 school-owned or school-leased computers. The minimum purchase is 100 licenses. At the time of initial purchase, you can add as many licenses over 100 (for an additional fee) to fit your needs. Licenses can only be added mid-term if another 10 minimum licenses are purchased. The Creative Cloud for Education device licenses are licenses for each computer, rather than each individual user and are ideal for classrooms and labs, one computer per license.

Creative Cloud K-12 School Site Device Licenses are available only to qualified primary and secondary or K-12 schools and districts purchasing on behalf of schools. School districts must purchase a K-12 School Site License for each school that will be using the software. K-12 School Site Licenses cannot be broken up and distributed among multiple schools or school locations.

Adobe Creative Cloud Purchase Information
This Creative Cloud K-12 School Site Device License is administered through the Adobe VIP (Value Incentive Program), which is a membership-based program that customers need to join in order to purchase the Creative Cloud K-12 School Site Device License. After an order is placed, we will send an email invitation with instructions to join the Adobe VIP Program. Once you accept the invitation and terms, your order will be processed. Customers with an already established VIP account do not need to create a new account and can purchase the K-12 License under their existing accounts. Pricing will be pro-rated so that all licenses will co-terminate at the Anniversary Date. Contact us (800.431.8713 or orders@creationengine.com) to use an existing VIP membership.