---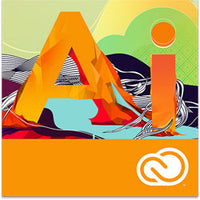 Important Info
Students cannot purchase the Adobe School/Nonprofit editions. This item is for school or nonprofit institution purchase only.

Product Description
Create vector art and illustrations using advanced, precise drawing and typography tools. Work quickly and intuitively on everything from brand identities and marketing materials to graphics for the web, video, and film. Illustrator CC is part of Creative Cloud, so you can sync color themes, workspaces, and projects - all with just a few clicks.

New Features - Available Only in Illustrator CC
Touch Type tool: Design with type in a powerful new way. Characters can be manipulated like individual objects. Experiment with moving, scaling, and rotating, knowing you can change the font or edit at any time. Now you can use multitouch devices as well as a mouse or stylus.
Images in brushes: Paint with a brush made from a photo. Art, Pattern, and Scatter brushes can contain raster images, so you can create complex organic designs quickly - with simple brush strokes. As with all Illustrator brushes, your strokes can be reshaped and modified at will.
Font search: Find the perfect font - fast. In the Character panel, type a style such as "bold" or "italic," a font family, or any other part of a font name. You'll get a filtered view that lets you see just the fonts that match your criteria.
Multiple-file place: Import multiple files into your Illustrator layout at the same time and with new control. Define the location and scale of your files - images, graphics, and text - and use new thumbnail views to see where each file will go and how big it will be.
CSS extraction: Hand-coding web elements such as icons and patterns can be frustrating. Create websites faster by letting Illustrator generate CSS code for you, even for a complete logo that includes gradients. Copy and paste the code right into your web editor.
Sync Colors: Capture color themes out in the world with the Adobe Kuler iPhone app. Share your themes and explore thousands of others available on the Kuler website. Sync your favorite themes, and they'll be accessible immediately in Illustrator.
Area and point type conversion: Instantly switch between area type and point type. Text object conversion is instantaneous so you can design freely in your text layouts. And you can work just as easily with imported type, switching formats at any time.
Auto corners for pattern brushes: Get the corners you want without extra steps. Create pattern brushes swiftly with auto-generated corners that perfectly match the rest of the stroke. No need to tediously create special corners for your sharp angles.
On-art Free Transform: Get hands-on with the power of the Free Transform tool. Move, scale, and rotate objects directly using a touchscreen device. Or use a mouse or other pointer right on the artboard to transform objects in a more immediate and intuitive way.
Faster type performance: Work faster with type, even in your most complicated, type-intensive designs. Text that wraps around objects and type that is set in multiple connected text frames now refreshes quickly when you make a change.
File packaging: File packaging automatically gathers and saves the necessary fonts, linked graphics, and a package report into a single folder. Efficiently hand off Illustrator files to production or keep your working files organized by packaging up your project.
Unembedded images: Easily unembed images that have been placed and embedded in an Illustrator file. You can quickly make images available for editing or extract files embedded in artwork you received from someone else. Links to the image files are created automatically.
Expanded Links panel options: Get more complete information about any placed file in the Links panel. All of your placed elements - images, graphics, and text - appear in the Links panel, where you can track them with greater control than ever before.