---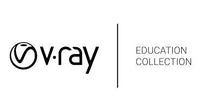 Important Info
This item is for school institution purchase only for use on school owned computers.
Educational institutions can buy as many licenses as they need
 
Volume discounts available for purchases of fifteen licenses or more
 
Special two- and three-year licenses available, email quotes@creationengine.com for pricing
 
Unlimited access to new product releases for the duration of the license
 
Free technical support and access to Chaos Group's educational resources
The essential V-Ray and Phoenix FD toolkit — with an 86% saving
You now have the ultimate toolset for 3D rendering and fluid dynamics at your fingertips. The V-Ray Education Collection offers access to multiple V-Ray versions plus Phoenix FD, so you can focus on your art without worrying about numerous licenses.

Quick-and-easy access
Multiple commercial-grade, industry-standard products — all under one license.

Greater value at a lower cost
A multi-product offering at a greatly discounted price with a 86% saving on the Collection's complete value.

Commercial-grade software
No watermarks or functionality limits.

Free upgrades
Upgrade to the latest version of all products included in the Collection throughout the term of your license.

Free technical support
Access to the same high-level help and support offered to commercial customers.

Freedom and flexibility
Master photorealistic rendering and fluid dynamics, without limits, with V-Ray and Phoenix FD across multiple host platforms.


WHAT'S INCLUDED
We've bundled 10+ of our educational products into a single offering

V-Ray for 3ds Max
V-Ray for Maya
V-Ray for SketchUp
V-Ray for Rhino
V-Ray for Revit
V-Ray for Cinema 4D
V-Ray for Modo
V-Ray for Unreal
V-Ray for Houdini
Phoenix FD for 3ds Max
Phoenix FD for Maya